AN OPEN LETTER TO CHRIS JERICHO
I first began watching wrestling in January of 2000. At that time I was a new teacher, trying to connect with my students. They were all huge fans of The Rock, and they genuinely made me smile with their imitations of him. I decided I wanted to see what they were raving about, and so I tuned in one night. I watched a few times, and was always amused by The Rock, but I found myself leaving the program on even after he was no longer talking, mainly to watch you.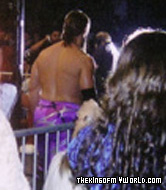 I ordered my first wrestling Pay-per-View that year, Wrestlemania Sixteen. I decided that day that wrestling was something I wanted to watch always. All the matches were incredible, and I enjoyed it very much. Your match against Angle and Benoit was one of my favorites. After that, I began to watch wrestling twice a week without fail.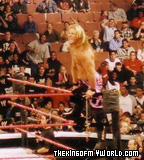 I finally attended my first live wrestling event January 4, 2003, a House Show. It was as much fun as I expected it to be. I had ordered my tickets the day they went on sale, and ended up with floor seats just a few rows from the ring. I was thrilled to get close enough to see you up close. Your match was ironic in some respects. Chris Jericho vs Booker T, and you had Christian in your corner. Who should make a surprise appearance but The Rock. I think I was a bit disappointed.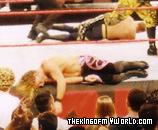 From that point on I was even more hooked on WWE, and you remained my favorite. I was fortunate enough to attend many more live events. Next was a Raw taping on December 8, 2003. That night found you and Christian against The Dudley Boyz.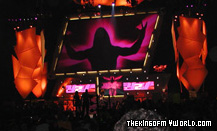 I've been fortunate to see you every time I've attended a live event. Your match with Edge on August 23, 2004 was fantastic...but what made that event even more fun was going to see Fozzy afterwards. Seeing you in a different environment was a lot of fun, and sneaking a hand on your shoulder is something I won't soon forget.

My support for you has never wavered through the entire time I've been watching wrestling. I didn't get to see the Vengeance Pay-per-View in 2001, but I followed the results avidly, and afterwards purchased the DVD so I could have a record of it forever. I did continue to purchase Wrestlemania though, up until 2005, and then I had a chance to go watch it in person.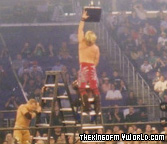 There is no denying the thrill that comes from watching Wrestlemania live in person. Of course, I would have preferred to watch you win that match. You were the winner, in my mind. Then, as always, you have a way of winning every match you're involved in. No one works harder than you do, in my humble opinion.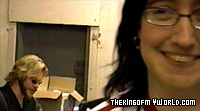 Perhaps the biggest thrill of the entire Wrestlemania weekend came when I got to meet you in person. I arrived at the Toys R Us early with my best friend, we waited in line in the hot sun for a couple of hours, and still weren't prepared for the rush of shaking your hand, and spending a few minutes in conversation with you. The good Karma of the day continued when the Toys R US security offered to get us back in line when they saw us loitering outside waiting for a glimpse of you as you left. Honesty pays off, we declined since we had already been inside once.

I'm sure you meet thousands of people every year. I hope you know how you touch some of their lives. Whether standing behind a line of scraggly bushes to watch your car pull into the arena, or pushing through a crowd of bodies just to stand close to your fire at a Fozzy gig, or being one of a long line of people waiting to jostle against the table where you sit, you make a difference.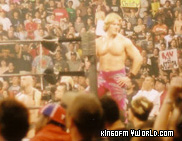 And now you have retired for a while. I understand and support your decision, but I will miss you greatly. There are few performers that have it all, and you are certainly one of them. I am eager to follow your new career, and will support you in all that you do.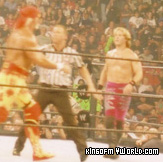 In closing, I'll mention an observation I made this year when I went to see the Raw/Smackdown Supershow in Anaheim. There are a world of people who idolize Hulk Hogan. Even back before I was an avid wrestling fan I can remember watching his battles with Piper during the early days of the WWF. The realization I made while watching you stare him down prior to your match that night was that YOU, Chris Jericho, are my Hulk Hogan. I'm still thrilled every time I see you, and I always will be. Your personality in the ring is electrifying, and I was just as excited the 6th time I saw you as I was the first time. You are a true professional in everything you undertake.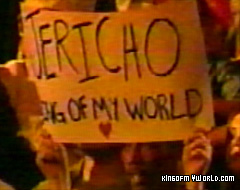 Although I won't have the opportunity to get my Jericho signs on TV anymore for the foreseeable future, my memories will last until the day you come back. And you will come back someday, stronger and better than ever.

Sincerely,

Carol
09.02.05